Best Ways to Deep Clean Upholstery
Upholstery cleaning requires a perfect and well handled planning. It is not only needed for a longer lifespan of the upholstery but also for the appearance and to enjoy health benefits. Whether you spend a lot of time in your home or elsewhere, it is necessary and important to maintain your upholstery in good shape. So, one of the important things to keep your couches and armchairs well is to follow certain upholstery deep cleaning methods. CBD's best couch cleaners suggest way to clean upholstery.
If you are trying to deep clean your upholstery at home by yourself, then you should know and have proper knowledge about it. For example, you should know about how to deal with stains, odours, or any other similar pollutants. Moreover, you should also know how to skillfully use the necessary tools for upholstery deep cleaning. If you have no idea what to do, follow our list and go ahead. You can just do as below for upholstery deep cleaning.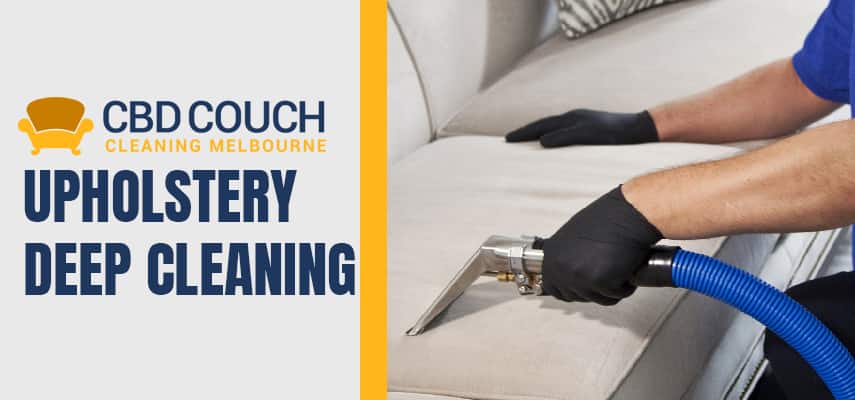 Some Of The Deep Cleaning Methods For Different Fabric Upholstery
You can start by consulting the care tag for a cleaning code. This code will help you with what products and cleaners are safe for which fabric. Once you have the fabric type, you can proceed with dry cleaning, water-based cleaners etc for different upholstery deep cleaning.
Method-1: By Finding The Cleaning Code
Locate the tag present on your upholstery
Use any water-based methods for upholstery having "W" marks
For upholstery having "X" marks, use vacuum cleaning
Use any solvent-based methods for upholstery having "S" marks
Use a combination type of method for upholstery having "WS" marks
But if you can't find any marks, you need to proceed carefully
W- Wet
X- No Cleaning
S- Solvent
WS- Solvent/Wet
Method-2: On Cotton, Linen And Polyester Use Dish Soap And Water
To remove any loose dirt particles, use vacuum cleaner to remove stains
Then create a cleaning solution with a mixture of water and dish soap
Later, blot dry the stain gently using a damp cloth
After that, use a fresh cloth containing water to rinse the soap mixture
To dry this spot, press the area with a clean cloth or paper towel
But, if this does not work, you can apply a foaming fabric or carpet cleaner
Method-3: Removing Stains On Leather
Use a vacuum cleaner to remove loose dust particles.
If the fabric is water-safe, use vinegar or vodka to clean blot stains.
For leather stains, you can use dish soap with warm water for couch cleaning.
For ink stains, which are tough to remove, you can use by rubbing alcohol on them.
Use baking soda to soak grease stains.
For marks as "S", you can use a commercial solvent solution to clean.
However, some stains are stubborn. For this, use need to get in contact with professional upholstery cleaning team,
Method-4: By Using Steam Cleaning Process On Water-Safe Fabric
To remove loose dust particles, run a vacuum cleaner over them
Then, attach water containing steam cleaner to a good socket
Now, turn on the steamer and gently move it over stains
Later, leave the couch to air dry completely
Professional Steps To Deep Clean Couch
Hire Best Cleaners For Upholstery Deep Cleaning
The best upholstery deep cleaning depends on the type of upholstery fabric. Regular cleanings are the best way to keep your dining chairs, sofa, armchairs, curtains, etc, to look new and fresh. Many professional cleaners recommend upholstery deep cleaning twice a year. But, heavily used upholstery like couches and armchairs may need more frequent attention. So, if you want to do a test check, you can simply run a cloth over the surface of your upholstery. If dirt comes away with cloth, then you need professional cleaning.
So, CBD couch cleaning Melbourne is here for upholstery deep cleaning. Our professionals are highly skilled and well experienced. Moreover, our professionals are licensed and accredited for their work in this industry. In fact, we also have a specialized local team of professionals for every area. In case of same day services and timely services, you can contact us. Bookings are available 24/7. Our staff have Certificate III in Cleaning Operations.